Sometimes it takes just one step to start something.
That's what FriendshipWorks' Walk to End Elder Isolation is all about. Coming together and creating a community for those who do not have one. For isolated elders who need the touch of a furry pal, the joy of music, a regular friendly visitor, a helping hand, or accompaniment to a medical appointment, your support means the world.
That's what hundreds of FriendshipWorks volunteers provide through our free programs and initiatives.
And your support as a walker, sponsor, team captain, donor, or cheerleader helps our enduring mission—to reduce elder isolation— continue.
 "If you don't like the way the world is, you change it. You have an obligation to change it. You just do it one step at a time."

MARIAN WRIGHT EDELMAN

Activist & Lawyer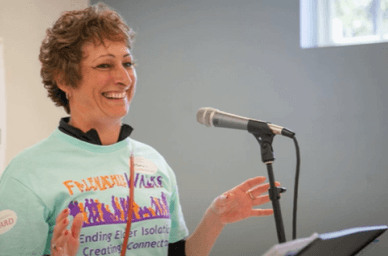 With your help, we can raise awareness of the power of friendship and most importantly, raise critical funds to support FriendshipWorks! Your support is needed now more than ever to support these programs and initiatives. I have been a volunteer for over 20 years and most recently stepped down as the Chair of the Board. I participate for my friends who I miss dearly; Norma, Evelyn, Mary, and Patricia who just passed. I have so many lovely memories with my time spent with FriendshipWorks! As folks are realizing how difficult social isolation is our elders have unfortunately been dealing with it for many years. Please help us help them in supporting the walk.

CONNIE PACKARD

Former President, FriendshipWorks Board of Directors