Fur friends provide comfort, elicit smiles, and often, happy memories, and just the touch of a cat or dog can change a person's outlook and well-being.  Even short-term pet visitation can provide emotional, physical, and mental benefits for older adults, improving their quality of life and reducing loneliness and isolation. PetPals are canine, feline, or other pet volunteers (and their humans!) that visit older adults in assisted living residences and skilled nursing facilities in Boston, Brookline, and Cambridge. PetPals teams are trained and assessed by an animal behaviorist, and love the attention of the residents!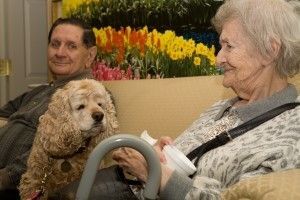 Why PetPals?
The wagging tails of dogs and the purring of cats bring smiles and laughter to the faces of residents, increase social interaction and ease the feeling of loneliness and isolation through shared connection. That's the benefit of the unconditional love from a PetPal.
In multiple studies, pet interaction has been shown to reduce stress, anxiety, and loneliness, as well as the risk of depression. Other studies have documented the physical benefits, such as lowered blood pressure, reduced physical cardiovascular and other markers of stress, and lower risk of falls and hospitalization. Pet visitation has even been associated with increased socialization, improvement in activities of daily living, and self-reported improvements in quality of life. One study found that spending just 15 minutes with an animal initiates hormonal changes in the brain, dropping stress levels and increasing serotonin (the "feel-good" hormone) levels.
"I have Daisy, a mutt, a Bishon terrier mix; she's a sweet dog who is always very gentle. She loves older people. She would always interact with them. My grandmother was in a rehabilitation facility and I went to visit her and brought Daisy to visit. My grandmother loved having her there and she responded so well. I knew Daisy could work with people in that environment. So when my Grandmother passed away, I thought I could carry on in her memory. So, I signed up with PetPals and went to my first match at Presentation in Brighton in 2018 and have been a PetPals volunteer ever since."

Darcy Hofmann

FriendshipWorks' Volunteer, 2021 David Libby Volunteer Award Winner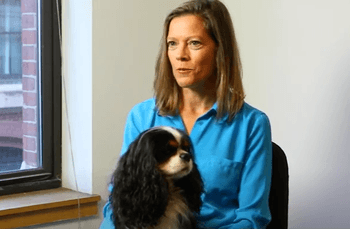 How It Works
Our PetPals Coordinator interviews and visits assisted living and skilled nursing care facilities to ensure their appropriateness for pet visitation.
PetPals volunteers are carefully screened for temperament and reaction to stressors by an animal behaviorist prior to assignment.
Owners are also trained on how to interact with residents to ensure the best possible experience for human and animal volunteers.
"It's something many of our residents adore. Not only are the animals loved, their owners' dedication and efforts mean the world to us." 

Nursing home Director of Volunteers
To apply to be a PetPals volunteer, go to PetPals Volunteer Application. 
You can also email Emily Lewis, PetPals Program Coordinator at elewis@fw4elders.org if you have any questions about the PetPals program.