FriendshipWorks Board of Directors and Executive Director FY 2024
Kyle Robidoux, President
Susan Foster, Secretary
Joseph V. Haddad
Koren Iskra
Carol Pritchett Kemp
Caroline Kung, Interim Treasurer
Richard Schwartz
Daniel Apicella
Connie Packard, Past President
Interested in learning more about the Board of Directors or becoming a Board Member? Please contact Janet at: jseckel-cerrotti@fw4elders.org.
FriendshipWorks has been guided since its inception in 1984 by Janet Seckel-Cerrotti.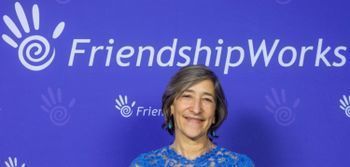 Janet Seckel-Cerrotti is the Executive Director of FriendshipWorks, an interfaith volunteer caregiving program serving older adults in Boston, MA. Janet has been with FriendshipWorks (formerly called MATCH-UP Interfaith Volunteers) since its inception in 1984—first as Coordinator of Volunteers and then Program Director when FriendshipWorks was under the aegis of Boston Aging Concerns.  She became the agency's founding Executive Director when FriendshipWorks became an independent organization in 1991.  In all of these capacities, she has been the driving force, creating a vision, and steering the organization through the various stages of its growth and development.
Janet holds an MSW degree from the Hunter College School of Social Work in New York and is a graduate of LeadBoston (a program sponsored by the National Conference for Community & Justice). Janet has held a range of senior leadership positions in numerous organizations serving the needs of and advocating for the elderly. She is a founding member and former Board Chair of the National Volunteer Caregiving Network, and previously served as a board member of the Boston Partnership for Older Adults, as President of the Massachusetts Coalition on Spiritual Well-being of the Elderly, and was a member of the Massachusetts Multicultural Coalition on Aging.
Janet is a national board member of the Shepherd's Centers of America, and a member of the Advisory Council for Beacon Hill Village. She is also currently an active member of the MA Healthy Aging Collaborative Advisory Council, and the MA Task Force to End Loneliness and Build Community.
Throughout the years, Janet's knowledge and expertise in the field of elder isolation have been sought by regional and national media and aging concerns organizations. Most recently, she and the mission of FriendshipWorks have been featured by Massachusetts Comcast Newsmakers, in the Boston Globe, and on the national Humankind Public Radio for their segment on Aging in Community.
Janet is celebrating her 39th year at FriendshipWorks.