We understand that the life experiences of LGBTQ+ older adults are as diverse as the people themselves.  At FriendshipWorks, we honor these differences and affirm each person's multifaceted identity.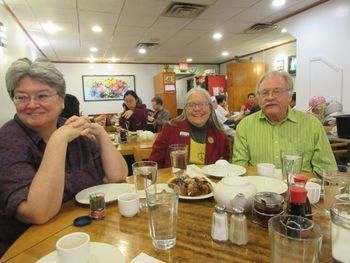 If you've been searching for a community where like-minded individuals come together to connect, share, and participate, then FriendshipWorks' LGBTQ+ Elder Initiative may be for you.
Through thoughtful friendly visiting matches and intentional, LGBTQ+ focused programming, we build connections and celebrate LGBTQ+ elders.
LGBTQ+ focused programming provides space for LGBTQ+ older adults and allies to build connections and share stories, and reflect and relax in the community.
We cultivate an intergenerational LGBTQ+ community, and we invite you to look around at our resources and upcoming events.
"This was my first story-sharing group. I needed to hear all of our stories. I needed this sharing. Today I was inspired by what you made. It gave me hope for the future."

LGBTQ+ StoryShare participant
Resources
Intergenerational StoryTelling Group Booklet
To Learn More about LGBT Aging
MA-LGBT Aging Commission Report 2015
"Sometimes queer community is discovered in places I haven't thought to look."  

Intergenerational Storytelling group member
FriendshipWorks is dedicated to ending social isolation among all older adults in Greater Boston, and we have a special focus on providing opportunities for social connection for LGBTQ+ seniors. Through volunteer matches and community events, we aim to celebrate the life accomplishments of LGBTQ+older adults and ease the challenges they face. Through friendship, advocacy, education, assistance, and emotional support, we create intergenerational connections that uplift the LGBTQ+community. For more information, please contact us at friend@fw4elders.org
Our Commitment to Safe and Culturally Competent Services
FriendshipWorks recognizes the need to create safe and affirming environments for LGBTQ+ older adults. We are committed to providing culturally competent care through all our programs – Friendly Visiting, Friendly Helping, and Medical Escorts – to all LGBTQ+ older adults. Furthermore, FriendshipWorks seeks to be a resource for LGBTQ+ older adults and their friends.
LGBTQ+ Elders Face Unique Challenges
LGBTQ+ older adults face unique challenges as they age, due to a lifetime of discrimination. In a survey conducted by SAGE, nearly 60% of LGBTQ+ older adults reported feeling a lack of companionship, while over 50% reported feeling isolated from others. LGBTQ+ adults are twice as likely to be single and live alone and four times less likely to have children, which heightens their risk for being socially isolated. Furthermore, this population is more likely to face discrimination and harassment in nursing homes and assisted living facilities.
All of these factors can negatively impact LGBTQ+ older adults' mental and physical health. By creating a connection and community for LGBT older adults, we can alleviate the negative impacts of social isolation.
Events
LGBTQ+ StoryShare is a virtual event where LGBTQ+ people of all ages come together to share their lived experiences with one another. StoryShare celebrates the resilience of LGBTQ+ older adults in Boston and seeks to build intergenerational connections within the LGBTQ+ community. You can find information about upcoming StoryShare events coming soon. 
If you would like to receive our LGBTQ+ E-News, please click below to subscribe.