FriendshipWorks offers a free Medical Escort program that provides older adults with trained volunteers to accompany them to and from (as needed) their medical appointments.  Accompanying older adults on the transportation they arrange, volunteers provide companionship and can also help older adults navigate to an appointment, schedule follow up visits, pick up medications or eyeglasses, and/or provide other personalized support.  
Why Medical Escorts?
Older adults may face certain challenges that make it difficult for them to attend medical appointments. The Medical Escort program provides a simple solution:
Caring Medical Escorts offer comfort, reassurance, and mobility/navigation assistance to elders (60+ years of age, or 55+ for those with vision or hearing impairments) beginning inside the home, continuing to the doctor's office and appointment room, and ending with a safe return back inside the home. With a Medical Escort, older adults can enjoy companionship and support to and from their medical appointments and receive the healthcare they need.
"Without this program, far too many seniors would not get the care they need." 

Medical Escort volunteer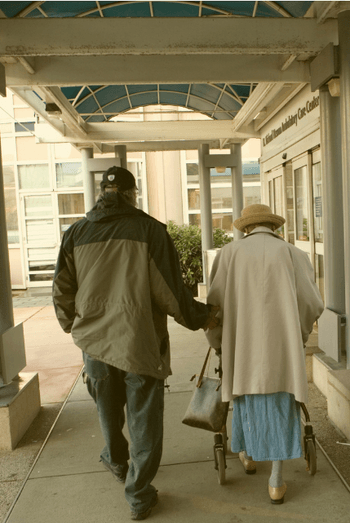 How It Works
Medical Escort volunteers can:
Lend a hand or an arm when mobility is an issue
Navigate hospitals
Accompany you into the exam room
Take notes if requested
Help understand doctors' instructions
Pick up prescriptions
Accompany you to lab or pharmacy
Help access Tele-medicine appointments
Work with transportation services
Please note: FriendshipWorks does not provide transportation to or from the medical appointment. However, we do offer a free Medical Escort and Transportation Guide for individuals to arrange their appointment transportation.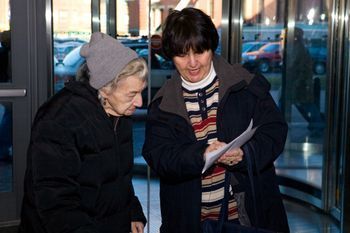 If you are or know of an elder (60+ years of age or 55+ for those with vision or hearing impairments) who would benefit from a Medical Escort, please visit our referral page.
Have questions about our Medical Escort program? Contact Kelley Ready at kready@fw4elders.org or call (617) 482-1510 x126.