MusicWorks hosts groups that help older adults socialize, move, and engage with their neighbors through music, singing, and dancing.   Groups are offered in elder residential buildings in Boston and feature different guess musicians, often reflecting their culture, which brings a sense of comfort and community.
As one older adult reflected, "Without music, you are not living!"  
Many participants and building staff members tell us this program is the highlight of their month! It's an opportunity for people to safely visit and participate in the music that is meaningful to them, often reflecting their culture, which brings a sense of comfort and community.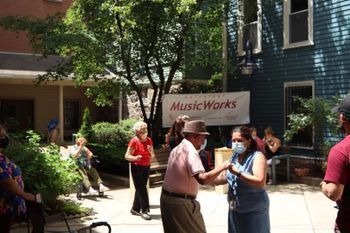 Why MusicWorks?
The original goals of the MusicWorks program are to use music to promote elders' overall well-being, encourage movement, and decrease social isolation. music can evoke powerful memories and emotions.   Older adults who have trouble remembering recent events can find meaning in songs that bring back older memories, improve their ability to remember recent events, experience positive changes in mood and feel an increased sense of self-sufficiency.  Meanwhile, dancing, swaying to a melody, stretching to the beat of a song, playing musical instruments, or using a keyboard are all common and natural responses to hearing music and music-related activities that can encourage interaction and bring new friendships.
"Great activity, healthy, fun and very social! Music is an art we all share and it doesn't matter what culture or nations, we all come together. FriendshipWorks helps musicians share their gifts and talents with us. We love to experience and enjoy music as a community and we hope these performances will always be possible."

MusicWorks Participant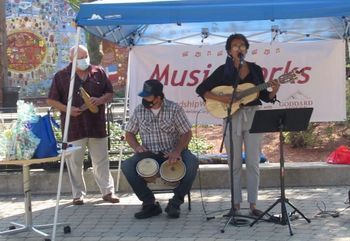 How it Works
Volunteers need to have weekday availability, either in the mornings or afternoons. Volunteers should expect 1-2 hours weekly and commit to at least a 6-month period.
Necesitamos voluntarias que hablen español!
For questions about the MusicWorks program, contact our MusicWorks Program Manager at (617) 482-1510 x148.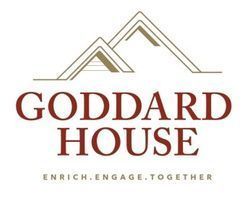 MusicWorks is presented in partnership with Goddard House Community Initiatives
Goddard House Community Initiatives is proud to be the founding sponsor of MusicWorks. Since 2015, Goddard House has collaborated with FriendshipWorks to develop and present MusicWorks, an innovative program that reduces social isolation among older adults through the shared experience of music.
Goddard House Community Initiatives embraces the aging experience for older adults living in the Greater Boston area by developing and sponsoring programs, which support their need for purpose, engagement, autonomy, and choice as they age. For more information, visit Goddard House Community Initiatives.