FriendshipWorks matches volunteers with older adults to help with simple tasks or errands that can be completed in 1-3 visits. These short-term opportunities can provide a friendly face and companionship while making life a bit easier and helping older adults live independently longer.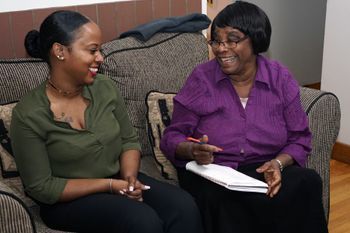 Why Friendly Helping?
Sometimes a pair of helping hands is what a person needs. Age or physical disability can pose challenges for many older adults who may be otherwise able but need assistance with certain tasks. They may be socially isolated and have no one to help them with activities that are crucial for them to remain independent. Having a friendly face to make work a little lighter, accomplish a task, and share a conversation may lead to a nice friendship.
The Friendly Helping Program provides a way for older adults in Boston to receive the assistance they need, remain autonomous, and connect with a new friend.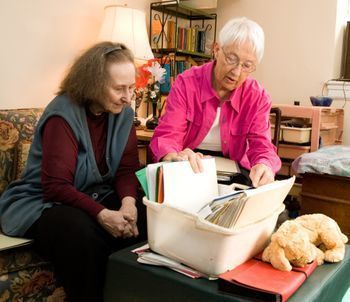 "My recovery and spiritual healing continues because of the art and practice of floral arrangement and bringing the 'flower blessings' to others experiencing trauma, chronic illness or social isolation and loneliness. FriendshipWorks' Friendly Helpers make it possible for me to teach as many people as I do."

Jan

FriendshipWorks' Participant
How It Works
Friendly Helping assists with tasks such as:
Seasonal tasks (like shoveling, yard work, or hanging decorations)
Organizing or cleaning out a closet
Light packing
Organizing papers or old photos
Picking up medications, an emergency grocery run, or other household items
Accompanying you on errands, appointments, or other trips
Picking up library books, audiobooks, or even internet hotspots you've reserved
Getting short-term help with using your computer or tablet, or how to use Zoom
Connect you to our Friendly Visitor program for more regular companionship.
Our Friendly Helping Coordinator will call the referral source and the older adult to learn more about the request and to set up a time to see the home.  The Coordinator will then look for a volunteer who is able to fulfill the request and confirm with the older adult.   
Once an intake with the older adult is completed, most requests can be fulfilled within about a week. The older adult should be prepared to pay for any groceries or other items or should have any tools or equipment needed for the task.
To become a Friendly Helping volunteer, please fill out our online volunteer application or call Carolina Martinez at 617-482-1510 x146.
If you are or know of an elder who would benefit from Friendly Helping, visit our referral page.
For questions about the Friendly Helping program, please contact cmartinez@fw4elders.org.