Imagine the smiling faces of an older adult and their volunteer match enjoying time visiting a museum, walking outdoors, or sharing their day over a cup of tea. Think of the joy of a pair of friends fishing, listening to an outdoor concert, enjoying the unconditional love of a pet, or leaving a doctor's appointment.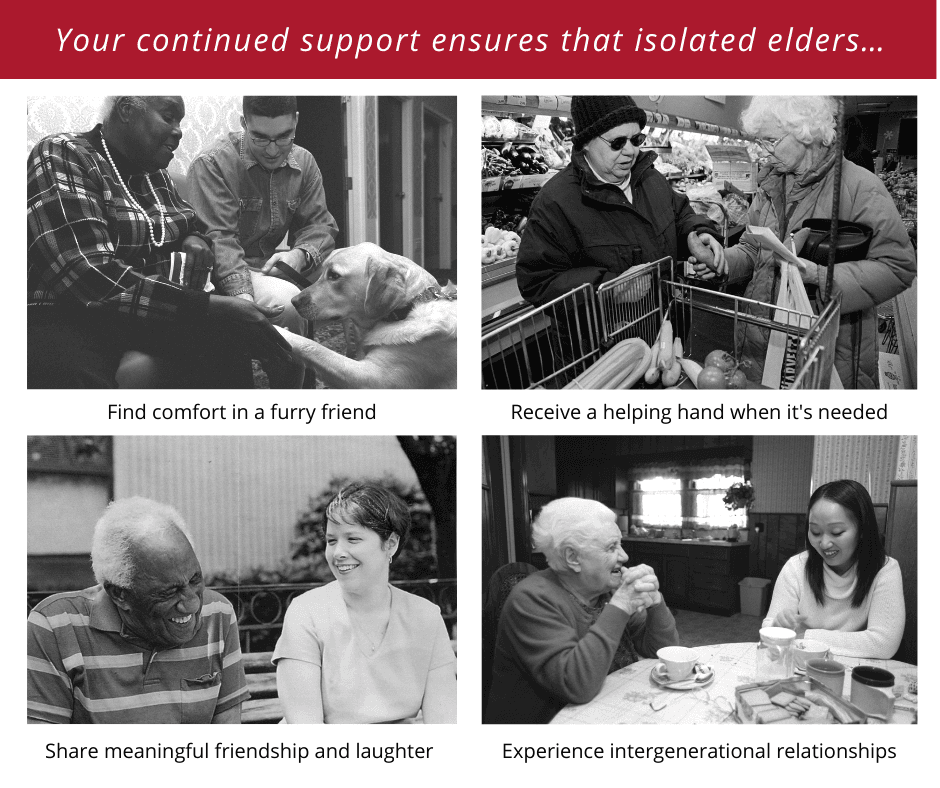 These moments and these matches are made possible by your gift; your caring; your belief in our mission to reduce elder isolation. Your gift allows us to make thoughtful matches for meaningful interaction.
"No one should be alone that doesn't choose to be." 

Janet Seckel-Cerrotti

FriendshipWorks Executive Director since 1984
Over 65% of our funding comes from individual supporters like you. Your investment supports our work to end elder isolation! 
"I can see my dollars at work, making a difference in people's lives."

FriendshipWorks Supporter
We understand making a gift is a personal choice. Below, you can read more about the many options for helping FriendshipWorks enrich the lives of older adults. For questions on the options below, please contact our Director of Development and Communications, Patty Catalano, by email at pcatalano@fw4elders.org or by phone at (617) 482-1510 X124.   
Gifts in Honor or in Memory:  Gifts can be made in honor or in memory of someone special or important in your life, and can also be made to commemorate special occasions. You can also request that gifts to FriendshipWorks be made in your name for any occasion.
Corporate Matching Gifts: Does your employer offer matching funds for charitable donations? Many companies will match your gift dollar for dollar—ask your human resources department, as different companies have different deadlines by which to participate. It's an easy way to increase your support for the important work we do!
Workplace Giving Programs: We welcome being included in your company's workplace charitable giving campaigns.  This is an easy way for companies and their employees to support FriendshipWorks through automatic payroll deductions, or via check or credit card. 
Best Funding Friend (BFF): Recurring Monthly Giving Program — A great (and painless!) way to help. You decide on a recurring monthly gift amount, which is automatically charged to your credit or debit card — you don't have to think about it again after it is set up.
Stocks, Bonds, and Mutual Funds: Make your contribution go further and take advantage of tax benefits by donating stocks, bonds, or mutual funds to FriendshipWorks. Your gift will support our mission while avoiding capital gains tax on the appreciation of your stock.  Doing so may allow us to receive a larger donation while saving you money on your taxes. 
Donor-Advised Funds (DAF): Give through your donor-advised fund to maximize the impact of your generosity.  Your fund sponsor (local community foundations; investments companies like Fidelity, Schwab, or Vanguard; and other select nonprofits) handles all record-keeping, disbursements, and tax receipts.  You can find us on your donor-advised fund sponsor's list of charities as FriendshipWorks.  You can also find us through our tax ID #04-3140541.
Planned Giving: Everyone can benefit from having a will to carry out their wishes, and planned gifts create extraordinary opportunities for FriendshipWorks and help to preserve our future.  There are many easy giving options, ranging from naming our organization as a beneficiary in your will to more complex trust arrangements. Please consult with your estate planning attorney to determine the right plan to achieve your goals.
Donate Your Old Car: FriendshipWorks now offers a vehicle donation program through a third-party company called CARS Partners. You make the call, and they arrange the tow at your convenience, with no charge to you! The company then sells the car at auction, and FriendshipWorks receives a donation based on your car's value (less costs of towing etc.)
We understand making a gift is a personal choice and that you may have some options to do so. Below, you can read more about the many options for helping FriendshipWorks enrich the lives of older adults. Our Director of Development and Communications, Patty Catalano is happy to speak with you and discuss these options or answer any question you may have. Please feel free to contact her at: pcatalano@fw4elders.org.
Learn more about the impact of your gift
Your support is needed, now and throughout the year. Your donation is a gift of friendship to an isolated older adult who needs a warm smile, a conversation, or a helping hand. THANK YOU for helping to build connections that reduce isolation and create stronger communities!